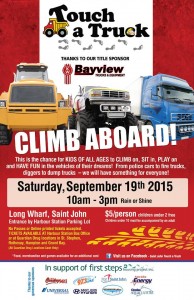 Start your Engines! Touch a Truck is coming back to Saint John this Saturday, September 19th, from 10 am to 3 pm at Long Wharf on the Saint John Waterfront. Presented by Bayview Trucks & Equipment, in support of First Steps Housing Project Inc., Touch a Truck will happen rain or shine! Admission is $5 per person (children under 2 free). Children under 10 must be accompanied by an adult.
This is the chance for kids of all ages to climb on, sit in, play on and have fun in the vehicles of their dreams! Fire trucks, ambulances, race cars, motorcycles, dump trucks, RV's, big rigs, diggers and more—we will have them all!
Tickets available at the Harbour Station Box Office or at Guardian Drug locations in St. Stephen, Rothesay, Hampton, and Grand Bay-Westfield (cash only). Food, merchandise, and games will be available for an additional cost. For more information visit the Saint John Touch a Truck Facebook Page and while you're there, like the page for a chance to win free tickets!
Touch a Truck is quickly becoming one of the most popular family events in North America and First Steps is thrilled to be able to bring it to Saint John.
The aim of First Steps is to provide a supportive transitional housing facility, Second Steps housing, Outreach Services, School, Day Care, and Child Development Programming. First Steps strives to ensure that young women who have no safe place to live will have a healthy pregnancy and a healthy baby; and through partnering with existing community services will assist these young women in moving towards self-sufficiency and a better quality of life. First Steps provides a supportive environment where young mothers can continue their education, further their personal development and gain the skills required to thrive as individuals and as parents.