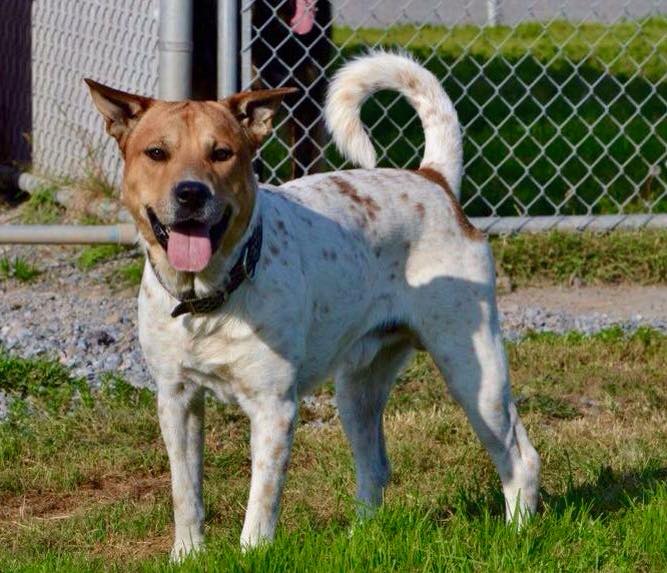 Calling all animal lovers! The Saint John SPCA's 22nd Annual Dog Jog at Rockwood Park, Second Arch (use the Fisher Lakes entrance) happens tomorrow, Saturday September 12th, from 10 am to 2 pm. Make a pledge to yourself to join in the fun and get outdoors with your four legged friends to enjoy the day and take a walk in scenic Rockwood Park, all for the good of supporting the homeless animals at the shelter. All proceeds from the Dog Jog (or walk) will directly fund programs and services at the Saint John SPCA Animal Rescue that cares for over 2000 animals who pass through their doors each year.
Whoever collects the biggest pledge will be awarded the TOP DOG award!
There will be live music by Saint John's Blonde Theory, and a kid's zone with magician Bernie Cormier. One major highlight is a Dog Frisbee show featuring Moncton's renowned JJ White and his K9 platoon of German Shepherds and Border Collies putting on an action packed, high flying 45 minute show that thrills audiences everywhere they travel.
There will be an educational component as well with representation from the NBSPCA talking about dog bite prevention and the Saint John Fire Department will be on hand giving safety tips. Dog licenses will be on sale. Dog Grooming by Tina will be doing a grooming demo, and another big hit will be a selfie Dog Costume Photo Booth. Get your furry friend to pose in a variety of costumes that will surely be one to suit everyone. The day would not be complete without a barbecue sponsored by Fundy Honda.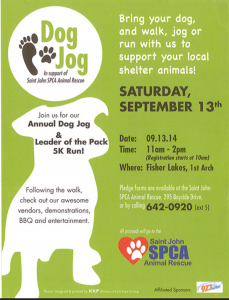 New this year: we have a few surprise dunk candidates for our DUNK TANK! $5.00 will give you three balls to take your best aim and hit your target. A great event for the entire family!
The Saint John SPCA Animal Rescue would like to thank 97.3 The Wave, The Telegraph Journal, Papa Johns, CAT Rentals, Pet Valu, Investors Group and Fundy Honda as title sponsors of the event. Pre-registration on Saturday at 10 am. Receive a ticket and be eligible to win a prize.
And now meet our SPOKESDOG!
"I am pleased to be chosen to be the SPOKESDOG this year for the 2015 Annual Dog Jog. My name is Shadow and you will see me throughout the day with an Adopt Me vest being escorted by my assistant trainer, Ann Savoy. Fame, fortune, snacks … what more could a dog want?! Well, actually, I know what else I want … a home for every animal that doesn't have one. That's why my handler and I are hitting the Dog Jog trails this year! I hope you'll help us too, because we can't do it alone! Here's how to get involved!
First, clear your calendar! Saturday, September 12, 2015 is the big day!
Next register! No dog required!
Once you are registered, collect pledges between now and the BIG DAY! Or show up on the Big Day with a minimum pledge of $25. The biggest pledge participant wins TOP DOG Award a $100 Gift Certificate from Costco! Join us at Dog Jog to walk or run in support of homeless animals! Turn in your pledges at the registration desk. Last year was beautiful so let's all hope for more sunshine this year! See you there!"
— Shadow
Event Schedule
• 10:00 a.m. Registration Opens (Pledges to be turned in at the registration tent)
• 11:00 a.m. Opening Ceremonies & Kick-off
• 12:00 p.m. Food, Entertainment, Prize Ceremony & Awards
• Bernie the Magician Show
• JJ White and his K9 Platoon of Disc Dogs
Prizes
1 – VIP Basket worth $500.00
2 – $50 Gift Certificate from Deluxe French Fries
For more information visit our website.