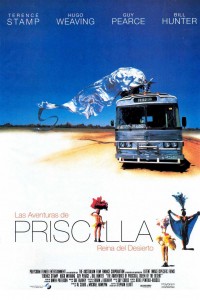 The Summer Retro Film Series presents The Adventures of Priscilla, Queen of the Desert (1994) at the Imperial Theatre on Monday August 17th starting at 7 pm. Tickets are $10.
Written and directed by Stephan Elliott, Priscilla stars Hugo Weaving, Guy Pearce, and Terence Stamp as two drag queens and a transsexual who are contracted to perform a drag show at a resort in Alice Springs, a resort town in the remote Australian desert. They head west from Sydney aboard their lavender bus, Priscilla. Along the way they encounter all sorts of absurd situations and individuals.
This Australian comedy is rated R.
For more information or to purchase tickets visit the Imperial Theatre website.